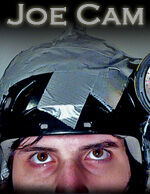 Joe Cam was a canclled feature length film project by Robert Benfer in 2008.
Plot
From joecamlive.com:
"A man named Joe Weltucket makes his own helmet cam in order to broadcast his life on his website 24/7. The show becomes famous, but when his best friend Paul rips off his idea and gains more popularity, Joe gets angry. Now Joe and Paul are going to try and bring each other down, while all of their fans watch live."
Cast
Robert Benfer
Sammie Penrod
Justin Pole
Nikki Benfer
Chris Entrop
Bill Williamson
Stephen Sudlow
Staff
Cinematography by Bill Williamson
Written and Directed by Robert Benfer
Production
In 2007, Robert announced a film he was working on entitled Lakeside Has No Lake, where 4 guys try to make a fake ghost video and post it on the internet so the world thinks that their town is haunted. This was later tweaked into Joe Cam. Pre-production began sometime in December 2007, but the project wasn't announced until April. A few days later, on April 6, filming had begun. Screenshots of the film were released in May, and in July,  a teaser trailer was released, showing that the film was moving along and wouldn't seem to be cancelled anytime soon.
Cancellation
Unfortunately, Sammie Penrod moved half-way through production, and Robert had to drive back and forth to Sammie's to shoot his scenes. So sometime in 2009, Robert was forced to cancel the project.